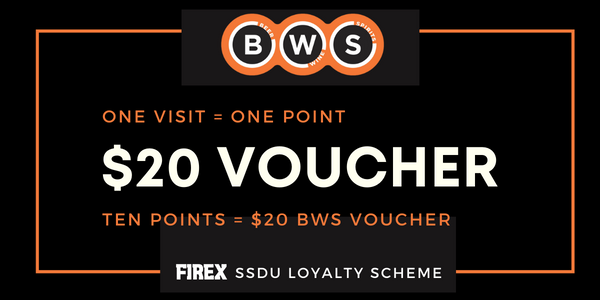 BE REWARDED BUY FROM FIREX VIA OUR SSDUs

Revolutionising the way businesses distribute products, FIREX has rolled out Self-Service Distribution Warehouses (SSDUs) across the East Coast, allowing our customers to operate 24hrs a day, 365 days of the year. We opened the first SSDU in 2018 at Waterloo, Sydney, and have since expanded to Hoxton Park, Chatswood, Warrawong, Erina, Port Melbourne, Virginia, Southport, Springvale, and Maribyrnong. Shortly, we will also be open in Chullora!
Our SSDUs let you collect your essential services equipment when you want, where you want. You can visit our SSDUs any time - day or night. Each location is stocked with our main product lines and available to all FIREX account customers.
Pick up stock from any FIREX SSDU and be rewarded
Starting on Thursday 7 July 2022 and running until 31 December 2022 we are offering all customers the chance to earn multiple $20 BWS vouchers.
Each time you visit a FIREX SSDU you'll gain ONE point; once you have earned TEN points we'll give you a $20 BWS voucher. The more you use the SSDU, the more vouchers you earn – we say cheers to that!
How the loyalty program works
Each order placed for pick up at an SSDU site will receive ONE point
10 SSDU visits equals TEN points
When you reach 10 points we will digitally send you a $20 BWS voucher
Place your order today for pick up at any of our SSDUs and start collecting your points. Good luck!
FIVE SIMPLE SSDU STEPS - saving you time and money
Place your order
Receive order confirmation via text
Visit the SSDU (any time, any day)
Use the security pin access to enter
Pick your order and you're away.
When you want, where you want. It's the Firex Difference.
How do I participate in the Loyalty Program?
All FIREX customers will be awarded ONE point each time they Enter a FIREX SSDU commencing from 1 July 2022.
Points are allocated based on Entry into a FIREX SSDU, not on orders placed with FIREX.
Customers cannot receive points for any prior SSDU visits.
How are Points redeemed?
Once an SSDU user has earned TEN points, FIREX will contact that customer and arrange for a $20 BWS voucher to be sent to them.
FIREX is not able to provide updates on points earned, prior to reaching TEN points.
Points are awarded to individual customers using our SSDU facilities, not to their employers.
SSDU USERS' LOYALTY SCHEME TERMS AND CONDITIONS
The FIREX SSDU Loyalty Program (Loyalty Program) is operated by FIREX Pty Ltd (We, Us, or Our). By participating in our Loyalty Program, you agree to the Terms and Conditions.
The Program is only valid within participating FIREX Self Service Distribution Units (SSDU) - as referred to in "check out the locations" above.
The Program commences on 7 July 2022 and will finish on 31 December 2022.
Orders collected from the main FIREX warehouse other than an SSDU (e.g., Castle Hill, Newcastle, Croydon South, or Malaga) are excluded from the "SSDU Loyalty Program". Similarly, orders that are delivered are excluded from the "SSDU Loyalty Program".
Loyalty Points cannot be redeemed or exchanged for cash or any other rewards. You cannot sell or transfer your Loyalty Points to anyone else.
Firex reserves the right to terminate your participation in our Loyalty Program if we believe you have engaged in fraudulent or unlawful activity, or have failed to comply with these Terms and Conditions.
Firex reserves the right to terminate your participation in our Loyalty Program if Firex believes you are entering into unfair activity to qualify for Points.
All points will expire at the close of the scheme on 31 December 2022, or at any other point determined by FIREX. There is no value attributed to any Points earned which on the date of amendment or termination have not been converted into a BWS voucher.
FIREX reserves the right to amend the award of a $20 BWS voucher to an alternative award of its choice.
There are no alternative awards available to users, and points cannot be exchanged for cash or products.
Firex may discontinue the Loyalty Scheme at their sole discretion, at no liability to you. If so, they will notify you by publicly posting on their website on this page.
Firex may change these Terms and Conditions or add new Terms and Conditions at any time at their sole discretion. If so, they will publish an updated version on their website on this page. Your continued participation in the Loyalty Program will constitute your acceptance of such changes.
These Terms and Conditions apply to the Firex SSDU Loyalty Program in Australia and are governed by the appropriate laws.
If you have any questions about the Loyalty Program or the Terms and Conditions, please contact Firex at sales@firex.com.au